Share this Stats page now!

F1 World Drivers' Champion 2008 . 2014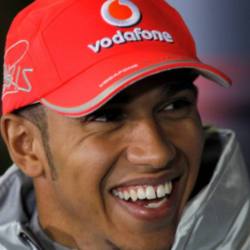 Lewis Carl Hamilton
Formula One Career Statistics

From an early age Lewis Hamilton attracted attention as a potential F1 champion and he did not disappoint. Equipped with an assured racing style which belief his years, Hamilton rose rapidly through the ranks, a rise which culminated in becoming the sport's youngest world champion at the time in 2008, his second season in the sport.
Hamilton has polarised opinion during his time in F1 but is undoubtedly one of a dying breed of thoroughbred racers, with his desire to win races at all times winning him fans but also costing him plenty of races. Earmarked for great things from a young age, he is undoubtedly the most talented British driver of his generation and is closing down on Nigel Mansell's benchmark of 31 victories.
His career since his title has not been straightforward. Though he seemed destined to add multiple titles to his name, he came crashing back to earth with a bang in 2009 as McLaren handed him a dud of a car which did not win a race until Hungary - by which time the title was long gone. 2010 provided renewed hope, though collisions at crucial moments in the season put paid to his title ambitions. Despite a 14-year association with the team, he left McLaren for pastures new in 2012 after reliability issues hampered his title charge. After winning a race on his debut season at Mercedes, he looks likely to challenge for a world title once again in 2014.
Hamilton took his first steps towards F1 in 1993, aged eight, when he started karting at Rye House Kart Circuit in his home county of Hertfordshire. By ten he was British Champion and on collecting his award at the Autosport Awards Ceremony, the youngster approached McLaren team boss Ron Dennis and told him, "I want to race for you one day." Dennis wrote in his autograph book that he should "give him a call in nine years". Less than three years later Dennis signed Hamilton to the McLaren Mercedes Young Driver Support Programme with the intention of developing him into the ultimate racing driver.
The funding enabled Hamilton to progress to single-seaters and the Formula Renault series in 2002, a championship he won in his second year with two rounds remaining. In 2004 he moved up to the Formula 3 Euroseries and again in his second year took a dominant win. He followed this up by winning the GP2 series at his first attempt in 2006 with Nelson Piquet Jr as his only real opposition.
After the departure of Kimi Raikkonen to Ferrari and Juan Pablo Montoya to NASCAR, McLaren found themselves requiring two drivers for the 2007 season. In November the news came that the racing fraternity had long been expecting - Hamilton would drive for McLaren in 2007 alongside Spaniard Fernando Alonso.
Formula One Summary
| | |
| --- | --- |
| Races | 154 |
| Drivers' Titles | 2 |
| Victories | 36 |
| Poles | 43 |
| Podiums | 76 |
| Points | 1612 |
| Fastest Laps | 22 |
| Laps | 8509 |
Finish Positions
| | |
| --- | --- |
| 1ˢᵗ | 36 Times |
| 2ⁿᵈ | 21 Times |
| 3ʳᵈ | 19 Times |
| 4ᵗʰ | 13 Times |
| 5ᵗʰ | 15 Times |
| 6ᵗʰ | 5 Times |
| 7ᵗʰ | 5 Times |
| 8ᵗʰ | 4 Times |
| 9ᵗʰ | 4 Times |
| 10ᵗʰ | 2 Times |
| 12ᵗʰ | 4 Times |
| 13ᵗʰ | 2 Times |
| 14ᵗʰ | 1 Time |
| 16ᵗʰ | 1 Time |
| 18ᵗʰ | 1 Time |
| 19ᵗʰ | 1 Time |
| DSQ | 1 Time |
| Ret | 19 Times |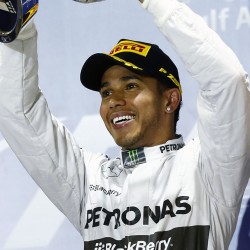 Complete Formula 1 Race Record >>click to expand<<
| | Season | Race | No | Team | Engine | Grid | Pos | Retired | Pts |
| --- | --- | --- | --- | --- | --- | --- | --- | --- | --- |
| 154 | 2015 | Monaco Grand Prix | 44 | Mercedes AMG F1 Team | Mercedes | 1 | 3 | | 15 |
| 153 | 2015 | Spanish Grand Prix | 44 | Mercedes AMG F1 Team | Mercedes | 2 | 2 | | 18 |
| 152 | 2015 | Bahrain Grand Prix | 44 | Mercedes AMG F1 Team | Mercedes | 1 | 1 | | 25 |
| 151 | 2015 | Chinese Grand Prix | 44 | Mercedes AMG F1 Team | Mercedes | 1 | 1 | | 25 |
| 150 | 2015 | Malaysian Grand Prix | 44 | Mercedes AMG F1 Team | Mercedes | 1 | 2 | | 18 |
| 149 | 2015 | Australian Grand Prix | 44 | Mercedes AMG F1 Team | Mercedes | 1 | 1 | | 25 |
| 148 | 2014 | Abu Dhabi Grand Prix | 44 | Mercedes | Mercedes | 2 | 1 | | 50 |
| 147 | 2014 | Brazilian Grand Prix | 44 | Mercedes | Mercedes | 2 | 2 | | 18 |
| 146 | 2014 | United States Grand Prix | 44 | Mercedes | Mercedes | 2 | 1 | | 25 |
| 145 | 2014 | Russian Grand Prix | 44 | Mercedes | Mercedes | 1 | 1 | | 25 |
| 144 | 2014 | Japanese Grand Prix | 44 | Mercedes | Mercedes | 2 | 1 | | 25 |
| 143 | 2014 | Singapore Grand Prix | 44 | Mercedes | Mercedes | 1 | 1 | | 25 |
| 142 | 2014 | Italian Grand Prix | 44 | Mercedes | Mercedes | 1 | 1 | | 25 |
| 141 | 2014 | Belgian Grand Prix | 44 | Mercedes | Mercedes | 2 | Ret | Damage | 0 |
| 140 | 2014 | Hungarian Grand Prix | 44 | Mercedes | Mercedes | 22 | 3 | | 15 |
| 139 | 2014 | German Grand Prix | 44 | Mercedes | Mercedes | 20 | 3 | | 15 |
| 138 | 2014 | British Grand Prix | 44 | Mercedes | Mercedes | 6 | 1 | | 25 |
| 137 | 2014 | Austrian Grand Prix | 44 | Mercedes | Mercedes | 9 | 2 | | 18 |
| 136 | 2014 | Canadian Grand Prix | 44 | Mercedes | Mercedes | 2 | Ret | Brakes | 0 |
| 135 | 2014 | Monaco Grand Prix | 44 | Mercedes | Mercedes | 2 | 2 | | 18 |
| 134 | 2014 | Spanish Grand Prix | 44 | Mercedes | Mercedes | 1 | 1 | | 25 |
| 133 | 2014 | Chinese Grand Prix | 44 | Mercedes | Mercedes | 1 | 1 | | 25 |
| 132 | 2014 | Bahrain Grand Prix | 44 | Mercedes | Mercedes | 2 | 1 | | 25 |
| 131 | 2014 | Malaysian Grand Prix | 44 | Mercedes | Mercedes | 1 | 1 | | 25 |
| 130 | 2014 | Australian Grand Prix | 44 | Mercedes | Mercedes | 1 | Ret | Engine | 0 |
| 129 | 2013 | Brazilian Grand Prix | 10 | Mercedes | Mercedes | 5 | 9 | | 2 |
| 128 | 2013 | United States Grand Prix | 10 | Mercedes | Mercedes | 5 | 4 | | 12 |
| 127 | 2013 | Abu Dhabi Grand Prix | 10 | Mercedes | Mercedes | 4 | 7 | | 6 |
| 126 | 2013 | Indian Grand Prix | 10 | Mercedes | Mercedes | 3 | 6 | | 8 |
| 125 | 2013 | Japanese Grand Prix | 10 | Mercedes | Mercedes | 3 | Ret | Puncture Damage | 0 |
| 124 | 2013 | Korean Grand Prix | 10 | Mercedes | Mercedes | 2 | 5 | | 10 |
| 123 | 2013 | Singapore Grand Prix | 10 | Mercedes | Mercedes | 5 | 5 | | 10 |
| 122 | 2013 | Italian Grand Prix | 10 | Mercedes | Mercedes | 12 | 9 | | 2 |
| 121 | 2013 | Belgian Grand Prix | 10 | Mercedes | Mercedes | 1 | 3 | | 15 |
| 120 | 2013 | Hungarian Grand Prix | 10 | Mercedes | Mercedes | 1 | 1 | | 25 |
| 119 | 2013 | German Grand Prix | 10 | Mercedes | Mercedes | 1 | 5 | | 10 |
| 118 | 2013 | British Grand Prix | 10 | Mercedes | Mercedes | 1 | 4 | | 12 |
| 117 | 2013 | Canadian Grand Prix | 10 | Mercedes | Mercedes | 2 | 3 | | 15 |
| 116 | 2013 | Monaco Grand Prix | 10 | Mercedes | Mercedes | 2 | 4 | | 12 |
| 115 | 2013 | Spanish Grand Prix | 10 | Mercedes | Mercedes | 2 | 12 | | 0 |
| 114 | 2013 | Bahrain Grand Prix | 10 | Mercedes | Mercedes | 9 | 5 | | 10 |
| 113 | 2013 | Chinese Grand Prix | 10 | Mercedes | Mercedes | 1 | 3 | | 15 |
| 112 | 2013 | Malaysian Grand Prix | 10 | Mercedes | Mercedes | 4 | 3 | | 15 |
| 111 | 2013 | Australian Grand Prix | 10 | Mercedes | Mercedes | 3 | 5 | | 10 |
| 110 | 2012 | Brazilian Grand Prix | 4 | McLaren | Mercedes | 1 | Ret | Collision | 0 |
| 109 | 2012 | United States Grand Prix | 4 | McLaren | Mercedes | 2 | 1 | | 25 |
| 108 | 2012 | Abu Dhabi Grand Prix | 4 | McLaren | Mercedes | 1 | Ret | Fuel pressure | 0 |
| 107 | 2012 | Indian Grand Prix | 4 | McLaren | Mercedes | 3 | 4 | | 12 |
| 106 | 2012 | Korean Grand Prix | 4 | McLaren | Mercedes | 3 | 10 | | 1 |
| 105 | 2012 | Japanese Grand Prix | 4 | McLaren | Mercedes | 9 | 5 | | 10 |
| 104 | 2012 | Singapore Grand Prix | 4 | McLaren | Mercedes | 1 | Ret | Gearbox | 0 |
| 103 | 2012 | Italian Grand Prix | 4 | McLaren | Mercedes | 1 | 1 | | 25 |
| 102 | 2012 | Belgian Grand Prix | 4 | McLaren | Mercedes | 7 | Ret | Collision | 0 |
| 101 | 2012 | Hungarian Grand Prix | 4 | McLaren | Mercedes | 1 | 1 | | 25 |
| 100 | 2012 | German Grand Prix | 4 | McLaren | Mercedes | 7 | Ret | Puncture damage | 0 |
| 99 | 2012 | British Grand Prix | 4 | McLaren | Mercedes | 8 | 8 | | 4 |
| 98 | 2012 | European Grand Prix | 4 | McLaren | Mercedes | 2 | 19 | | 0 |
| 97 | 2012 | Canadian Grand Prix | 4 | McLaren | Mercedes | 2 | 1 | | 25 |
| 96 | 2012 | Monaco Grand Prix | 4 | McLaren | Mercedes | 3 | 5 | | 10 |
| 95 | 2012 | Spanish Grand Prix | 4 | McLaren | Mercedes | 24 | 8 | | 4 |
| 94 | 2012 | Bahrain Grand Prix | 4 | McLaren | Mercedes | 2 | 8 | | 4 |
| 93 | 2012 | Chinese Grand Prix | 4 | McLaren | Mercedes | 7 | 3 | | 15 |
| 92 | 2012 | Malaysian Grand Prix | 4 | McLaren | Mercedes | 1 | 3 | | 15 |
| 91 | 2012 | Australian Grand Prix | 4 | McLaren | Mercedes | 1 | 3 | | 15 |
| 90 | 2011 | Brazilian Grand Prix | 3 | McLaren | Mercedes | 4 | Ret | Gearbox | 0 |
| 89 | 2011 | Abu Dhabi Grand Prix | 3 | McLaren | Mercedes | 2 | 1 | | 25 |
| 88 | 2011 | Indian Grand Prix | 3 | McLaren | Mercedes | 5 | 7 | | 6 |
| 87 | 2011 | Korean Grand Prix | 3 | McLaren | Mercedes | 1 | 2 | | 18 |
| 86 | 2011 | Japanese Grand Prix | 3 | McLaren | Mercedes | 3 | 5 | | 10 |
| 85 | 2011 | Singapore Grand Prix | 3 | McLaren | Mercedes | 4 | 5 | | 10 |
| 84 | 2011 | Italian Grand Prix | 3 | McLaren | Mercedes | 2 | 4 | | 12 |
| 83 | 2011 | Belgian Grand Prix | 3 | McLaren | Mercedes | 2 | Ret | Collision | 0 |
| 82 | 2011 | Hungarian Grand Prix | 3 | McLaren | Mercedes | 2 | 4 | | 12 |
| 81 | 2011 | German Grand Prix | 3 | McLaren | Mercedes | 2 | 1 | | 25 |
| 80 | 2011 | British Grand Prix | 3 | McLaren | Mercedes | 10 | 4 | | 12 |
| 79 | 2011 | European Grand Prix | 3 | McLaren | Mercedes | 3 | 4 | | 12 |
| 78 | 2011 | Canadian Grand Prix | 3 | McLaren | Mercedes | 5 | Ret | Collision | 0 |
| 77 | 2011 | Monaco Grand Prix | 3 | McLaren | Mercedes | 9 | 6 | | 8 |
| 76 | 2011 | Spanish Grand Prix | 3 | McLaren | Mercedes | 3 | 2 | | 18 |
| 75 | 2011 | Turkish Grand Prix | 3 | McLaren | Mercedes | 4 | 4 | | 12 |
| 74 | 2011 | Chinese Grand Prix | 3 | McLaren | Mercedes | 3 | 1 | | 25 |
| 73 | 2011 | Malaysian Grand Prix | 3 | McLaren | Mercedes | 2 | 8 | | 4 |
| 72 | 2011 | Australian Grand Prix | 3 | McLaren | Mercedes | 2 | 2 | | 18 |
| 71 | 2010 | Abu Dhabi Grand Prix | 2 | McLaren | Mercedes | 2 | 2 | | 18 |
| 70 | 2010 | Brazilian Grand Prix | 2 | McLaren | Mercedes | 4 | 4 | | 12 |
| 69 | 2010 | Korean Grand Prix | 2 | McLaren | Mercedes | 4 | 2 | | 18 |
| 68 | 2010 | Japanese Grand Prix | 2 | McLaren | Mercedes | 8 | 5 | | 10 |
| 67 | 2010 | Singapore Grand Prix | 2 | McLaren | Mercedes | 3 | Ret | Collision | 0 |
| 66 | 2010 | Italian Grand Prix | 2 | McLaren | Mercedes | 5 | Ret | Collision | 0 |
| 65 | 2010 | Belgian Grand Prix | 2 | McLaren | Mercedes | 2 | 1 | | 25 |
| 64 | 2010 | Hungarian Grand Prix | 2 | McLaren | Mercedes | 5 | Ret | Gearbox | 0 |
| 63 | 2010 | German Grand Prix | 2 | McLaren | Mercedes | 6 | 4 | | 12 |
| 62 | 2010 | British Grand Prix | 2 | McLaren | Mercedes | 4 | 2 | | 18 |
| 61 | 2010 | European Grand Prix | 2 | McLaren | Mercedes | 3 | 2 | | 18 |
| 60 | 2010 | Canadian Grand Prix | 2 | McLaren | Mercedes | 1 | 1 | | 25 |
| 59 | 2010 | Turkish Grand Prix | 2 | McLaren | Mercedes | 2 | 1 | | 25 |
| 58 | 2010 | Monaco Grand Prix | 2 | McLaren | Mercedes | 5 | 5 | | 10 |
| 57 | 2010 | Spanish Grand Prix | 2 | McLaren | Mercedes | 3 | 14 | Wheel | 0 |
| 56 | 2010 | Chinese Grand Prix | 2 | McLaren | Mercedes | 6 | 2 | | 18 |
| 55 | 2010 | Malaysian Grand Prix | 2 | McLaren | Mercedes | 20 | 6 | | 8 |
| 54 | 2010 | Australian Grand Prix | 2 | McLaren | Mercedes | 11 | 6 | | 8 |
| 53 | 2010 | Bahrain Grand Prix | 2 | McLaren | Mercedes | 4 | 3 | | 15 |
| 52 | 2009 | Abu Dhabi Grand Prix | 1 | McLaren | Mercedes | 1 | Ret | Brakes | 0 |
| 51 | 2009 | Brazilian Grand Prix | 1 | McLaren | Mercedes | 17 | 3 | | 6 |
| 50 | 2009 | Japanese Grand Prix | 1 | McLaren | Mercedes | 3 | 3 | | 6 |
| 49 | 2009 | Singapore Grand Prix | 1 | McLaren | Mercedes | 1 | 1 | | 10 |
| 48 | 2009 | Italian Grand Prix | 1 | McLaren | Mercedes | 1 | 12 | Accident | 0 |
| 47 | 2009 | Belgian Grand Prix | 1 | McLaren | Mercedes | 12 | Ret | Collision | 0 |
| 46 | 2009 | European Grand Prix | 1 | McLaren | Mercedes | 1 | 2 | | 8 |
| 45 | 2009 | Hungarian Grand Prix | 1 | McLaren | Mercedes | 4 | 1 | | 10 |
| 44 | 2009 | German Grand Prix | 1 | McLaren | Mercedes | 5 | 18 | | 0 |
| 43 | 2009 | British Grand Prix | 1 | McLaren | Mercedes | 19 | 16 | | 0 |
| 42 | 2009 | Turkish Grand Prix | 1 | McLaren | Mercedes | 16 | 13 | | 0 |
| 41 | 2009 | Monaco Grand Prix | 1 | McLaren | Mercedes | 19 | 12 | | 0 |
| 40 | 2009 | Spanish Grand Prix | 1 | McLaren | Mercedes | 14 | 9 | | 0 |
| 39 | 2009 | Bahrain Grand Prix | 1 | McLaren | Mercedes | 5 | 4 | | 5 |
| 38 | 2009 | Chinese Grand Prix | 1 | McLaren | Mercedes | 9 | 6 | | 3 |
| 37 | 2009 | Malaysian Grand Prix | 1 | McLaren | Mercedes | 12 | 7 | | 1 |
| 36 | 2009 | Australian Grand Prix | 1 | McLaren | Mercedes | 18 | DSQ | Disqualified | 0 |
| 35 | 2008 | Brazilian Grand Prix | 22 | McLaren | Mercedes | 4 | 5 | | 4 |
| 34 | 2008 | Chinese Grand Prix | 22 | McLaren | Mercedes | 1 | 1 | | 10 |
| 33 | 2008 | Japanese Grand Prix | 22 | McLaren | Mercedes | 1 | 12 | | 0 |
| 32 | 2008 | Singapore Grand Prix | 22 | McLaren | Mercedes | 2 | 3 | | 6 |
| 31 | 2008 | Italian Grand Prix | 22 | McLaren | Mercedes | 15 | 7 | | 2 |
| 30 | 2008 | Belgian Grand Prix | 22 | McLaren | Mercedes | 1 | 3 | | 6 |
| 29 | 2008 | European Grand Prix | 22 | McLaren | Mercedes | 2 | 2 | | 8 |
| 28 | 2008 | Hungarian Grand Prix | 22 | McLaren | Mercedes | 1 | 5 | | 4 |
| 27 | 2008 | German Grand Prix | 22 | McLaren | Mercedes | 1 | 1 | | 10 |
| 26 | 2008 | British Grand Prix | 22 | McLaren | Mercedes | 4 | 1 | | 10 |
| 25 | 2008 | French Grand Prix | 22 | McLaren | Mercedes | 13 | 10 | | 0 |
| 24 | 2008 | Canadian Grand Prix | 22 | McLaren | Mercedes | 1 | Ret | Collision | 0 |
| 23 | 2008 | Monaco Grand Prix | 22 | McLaren | Mercedes | 3 | 1 | | 10 |
| 22 | 2008 | Turkish Grand Prix | 22 | McLaren | Mercedes | 3 | 2 | | 8 |
| 21 | 2008 | Spanish Grand Prix | 22 | McLaren | Mercedes | 5 | 3 | | 6 |
| 20 | 2008 | Bahrain Grand Prix | 22 | McLaren | Mercedes | 3 | 13 | | 0 |
| 19 | 2008 | Malaysian Grand Prix | 22 | McLaren | Mercedes | 9 | 5 | | 4 |
| 18 | 2008 | Australian Grand Prix | 22 | McLaren | Mercedes | 1 | 1 | | 10 |
| 17 | 2007 | Brazilian Grand Prix | 2 | McLaren | Mercedes | 2 | 7 | | 2 |
| 16 | 2007 | Chinese Grand Prix | 2 | McLaren | Mercedes | 1 | Ret | Spun off | 0 |
| 15 | 2007 | Japanese Grand Prix | 2 | McLaren | Mercedes | 1 | 1 | | 10 |
| 14 | 2007 | Belgian Grand Prix | 2 | McLaren | Mercedes | 4 | 4 | | 5 |
| 13 | 2007 | Italian Grand Prix | 2 | McLaren | Mercedes | 2 | 2 | | 8 |
| 12 | 2007 | Turkish Grand Prix | 2 | McLaren | Mercedes | 2 | 5 | | 4 |
| 11 | 2007 | Hungarian Grand Prix | 2 | McLaren | Mercedes | 1 | 1 | | 10 |
| 10 | 2007 | European Grand Prix | 2 | McLaren | Mercedes | 10 | 9 | | 0 |
| 9 | 2007 | British Grand Prix | 2 | McLaren | Mercedes | 1 | 3 | | 6 |
| 8 | 2007 | French Grand Prix | 2 | McLaren | Mercedes | 2 | 3 | | 6 |
| 7 | 2007 | United States Grand Prix | 2 | McLaren | Mercedes | 1 | 1 | | 10 |
| 6 | 2007 | Canadian Grand Prix | 2 | McLaren | Mercedes | 1 | 1 | | 10 |
| 5 | 2007 | Monaco Grand Prix | 2 | McLaren | Mercedes | 2 | 2 | | 8 |
| 4 | 2007 | Spanish Grand Prix | 2 | McLaren | Mercedes | 4 | 2 | | 8 |
| 3 | 2007 | Bahrain Grand Prix | 2 | McLaren | Mercedes | 2 | 2 | | 8 |
| 2 | 2007 | Malaysian Grand Prix | 2 | McLaren | Mercedes | 4 | 2 | | 8 |
| 1 | 2007 | Australian Grand Prix | 2 | McLaren | Mercedes | 4 | 3 | | 6 |





Teammate Comparison
A season-by-season review of Lewis Hamilton's competitive performance in comparison to each of his teammates.
(Each stat group shows the drivers' information on the left and the teammates' on the right.)