Valtteri Bottas
Formula One Career Statistics
Valtteri Bottas // Formula One Records

Valtteri Bottas (born 28 August 1989 in Nastola, Finland) is a Finnish racing driver competing in Formula One with Williams Martini Racing.
Like many modern F1 drivers, Bottas had his competitive racing start in karting, finishing 8th in the Karting World Cup for the P.D.B. Racing Team before competing and winning both the 2008 Formula Renault Eurocup and the 2008 Formula Renault Northern European Cup. In doing so, he repeated the feat of Filipe Albuquerque, who won both the NEC and Eurocup in the same season, in 2006.
Bottas would have also won the 2007 Formula Renault UK Winter Series, had he been holding an MSA-registered licence for the championship. This did however not stop him from competing, and he won three out of the four races in the championship. He moved up into the Formula Three Euroseries for the 2009 season, competing for reigning champions ART Grand Prix. Despite not winning a race, Bottas set two pole positions on his way to third in the championship.
In 2010 Bottas was assigned test driver for the Williams Formula One team and would continue as such for the 2011 and 2012 (where he took part in 15 Friday Free Practice sessions) seasons, during which he also contested the GP3 Series, remaining with F3 squad ART. In 2013 he was confirmed as teammate to Pastor Maldonado at Williams for the 2013 Formula One season on 28 November 2012.
Once I get to drive more, with mileage and experience, then I can do some good things.
I've worked hard to get here ever since I started karting at six years old, but the real work starts now as I prepare myself for the biggest challenge of my career.
Physics still exists, if you have lighter car with less fuel it goes a bit quicker!
Formula One Summary
| | |
| --- | --- |
| Races | 44 |
| Race Starts | 43 |
| Drivers' Titles | 0 |
| Victories | 0 |
| Poles | 0 |
| Podiums | 6 |
| Points | 232 |
| Fastest Laps | 1 |
| Laps | 2433 |
Finish Positions
| | |
| --- | --- |
| 2ⁿᵈ | 2 Times |
| 3ʳᵈ | 4 Times |
| 4ᵗʰ | 3 Times |
| 5ᵗʰ | 4 Times |
| 6ᵗʰ | 2 Times |
| 7ᵗʰ | 2 Times |
| 8ᵗʰ | 4 Times |
| 10ᵗʰ | 1 Time |
| 11ᵗʰ | 2 Times |
| 12ᵗʰ | 3 Times |
| 13ᵗʰ | 2 Times |
| 14ᵗʰ | 4 Times |
| 15ᵗʰ | 3 Times |
| 16ᵗʰ | 3 Times |
| 17ᵗʰ | 1 Time |
| Ret | 3 Times |
| DNS | 1 Time |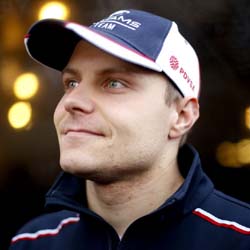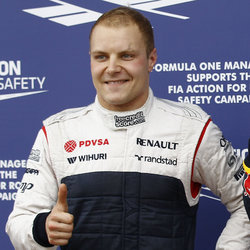 Formula 1 Teammate Comparison
Complete Formula 1 Race Record >>click to expand<<
* animated counter stats last updated 31 July 2014 *