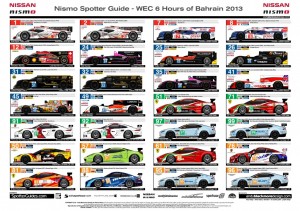 Live video feed from Bahrain International Circuit for the final round of the 2013 FIA World Endurance Championship: the 6 Hours of Bahrain.
The ridiculously talented livery artist Andy Blackmore has released another of his detailed Spotter Guides for the 6 Hours of Bahrain. Clicking the image to the right will overlay a larger size guide for you.
You can also get more information and details on this, and other spotter guides from either SpotterGuides.com  or AndyBlackmoreDesign.com.